I'm down to 8% invested. Here's how my current portfolio is doing.
Stocks
Gain/Loss

This Week

Last Week

BSX

-2.66%

Average
As you can see I only own one stock. I put a buy order in for this one and it triggered the next day. Unfortunately, the stock tried to break out, but it failed. In addition, the attempted breakout was on low volume. It was actually down a bit more, but has partially recovered.
You can see that my fund as not done well either.
Funds
Gain/Loss

This Week

Last Week

RYTVX

+13.59%

+17.25%

Average
I've noticed that the market in general is going through a malaise. What I find interesting, is the market appears to be mapping out a traditional cup-and-handle formation. Here's a snippet of the NASDAQ.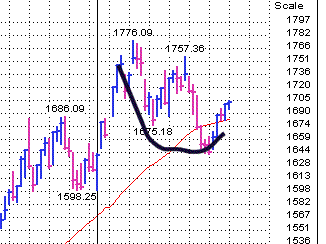 The thin read line is the 50 DMA. Dropping below the 50 DMA is not a good sign. The squiggly black line is my attempt to draw a curve of the action over the last six weeks. It looks to me like it's starting to trace out the right side of the cup part. Or this could be a double-bottom formation. Either way it is a potential bullish sign and could bode well for the future.
I would say that now the time to keep your powder dry, but be ready, the market could finish out this pattern over the next couple of weeks and then take off again - or it may not.
It will pay to keep a close eye on stocks that might be basing and be ready to pull the trigger, when they break out.
Here's how I'm doing year-to-date.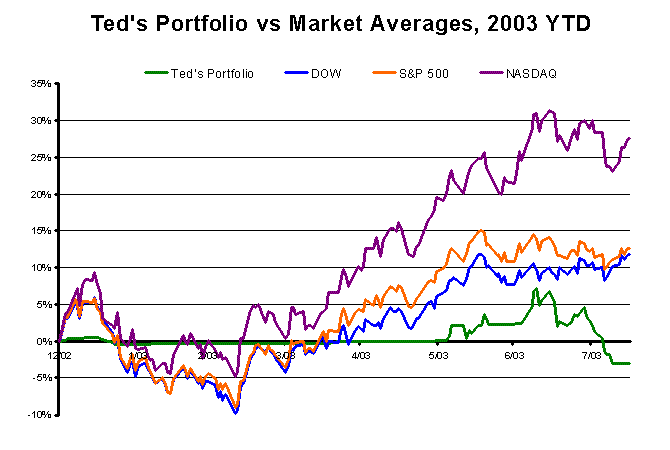 Had any really profitable trades lately? Share them with me. I'd love to hear about your successes.
So, let me just say, happy trading to you, until we meet again!
Warmly,
Ted

Posted 8/16/03